26 September 2021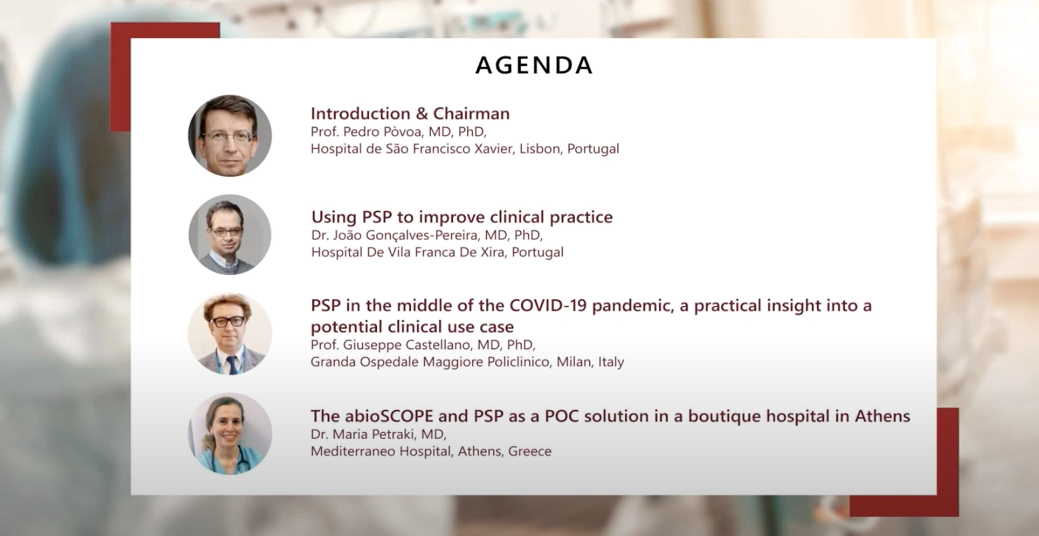 Abionic Webinar - Advancing the diagnosis of sepsis in the intensive care units
Real world evidence on the practical implementation of the Pancreatic Stone Protein (PSP) sepsis test was demonstrated at the webinar held by Abionic SA on September 22, 2021. The live discussion on sepsis, chaired by Professor Pedro Póvoa, joined renowned scientists, including Dr. Maria Petraki, MD, Director of ICU - HDU of Mediterraneo Hospital in Athens.
The speakers shared their experiences and practices with the use of Pancreatic Stone Protein (PSP) biomarker rapidly run on the abioSCOPE® device and highlighted the importance of using innovative and effective biomarkers to improve hospital care. It was pointed out that the PSP test has shown remarkably promising results, either for the early detection of sepsis or for predicting disease severity and tailoring the use of antibiotics.
In particular, Dr. Maria Petraki discussed the value of personalising treatments for each patient. Using the most innovative technology available to them, they implemented the abioSCOPE® device to support the management of their patients at risk of sepsis.
"Most of our staff have been trained to be able to run PSP when it is needed. It provides actionable results and is very important that we can instantly get the results when we see severe changes in the patients' clinical image."
"We are now starting earlier treatment in our patients with sepsis, with remarkable results in the overall management of the patients and the outcome of their stay in our ICU."
Dr Petraki also spoke about the importance of having a solution that is financially feasible. "I work in a private hospital and we need to take into account the health costs, and we have seen that the early diagnosis of sepsis is a good cost-saving tactic in our hospital."
Watch the full webinar here.